Kuju mountain range is called 'a roof of Kyushu', consisting of peaks such as Mt.Nakadake, the Kyushu's highest peak,
Mt. Kuju, one of the 100 best mountains in Japan, and Mt.Taisen ,which are higher than 1700m.
This area is full of diversity from unique volcanic scenery of smoking mountain, magnificent grassland,
to the two wetlands such as Tadewara and Bogatsuru which are registered under the Ramsar Convention.
This whole area is designated Aso-Kuju National Park.
> Ministry of the Environment  Aso-Kuju National Park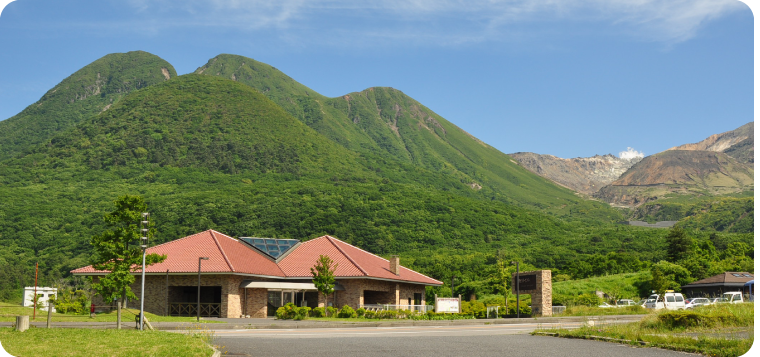 Chojabaru Visitor Center is located at the entrance of Kuju Mountain range and is a facility for introducing
the nature and culture in Kuju area in Aso-Kuju National Park.
It also serves as an information center for the visitors and hikers. ( Leaflet attached)
Information
You can ask questions in English about nature, how to get around, hiking routes and so on.
We are also very happy if you share your experience in the mountains with us!
Footpaths
There are some footpaths in Tadewara. (20min.to 1hr.) Ask the details at the information desk.
Aso-Kuju National Park
Chojabaru Visitor Center
Address

255-33 Oaza Tano Kokonoe town, Kusu OITA 879-4911 JAPAN
Phone

+81-973-79-2154
E-mail

visitor@oct-net.ne.jp
Facebook

https://www.facebook.com/choujabaruvisitor
Open

9:00-17:00 (May –Oct.), 9:00-16:00 (Nov.-Apr) *Dec.29-Jan.3 (Closed)

Kuju Fan Club is a unique organization, consisting of national and private bodies and also a nature conservation group.
Our missions are
To conserve the natural environment in Kuju area
To promote the proper use of this National Park
To contribute to the development of the Kuju area
Activities
Research and Conservation
Various activities are conducted to pass on the beautiful nature in Kuju to the next generation, such as, taking part in Noyaki(open burning),
monitoring research on the plants in Tadewara, eliminating the alien species and others.
Environmental education and working on the public awareness
To promote the interest in nature and good manners in the mountains, we give environmental education lessons in the local schools,
and mini lectures on Aso-Kuju National Park. We arrange nature observation walks in Tadewara.
Through our facebook, we send information about the hikes and trails, and also the beautiful scenery from Kuju mountain range.
Maintenance activities
For the safe and pleasant use of the hiking routes, the maintenance of the trails, and the
repairing of the signposts have been done in cooperation with various groups.
To keep surrounding area tidy, the staffs keep an eye on the area, including the public toilets and parking area.